I've always wanted to do an nice satin-y Pottery Barn finish on furniture, but I've been waiting for the right opportunity to do it. My best friend picked up a couple of dressers from a neighbor for $50 combined! Awesome deal right?! She brought them to me and specifically asked for the Pottery Barn finish she heard about from her mom who is a "Pin-head". I knew exactly what she was talking about since I had pinned the same web site on how to do this particular finish. Here's the awesome site I went to at
Just a Girl
.
My adventure began shopping for the Benjamin Moore paint which apparently can only be found at Ace Hardware out here. Unfortunately, they don't sell this product anymore, then I realized the posted tutorial was over 2 years ago! So I decided to improvise. The four things that stick out to me that makes this paint amazing is LATEX, LOW LUSTER, INTERIOR, and ENAMEL. So I headed back to Home Depot (my personal go to) and searched for the next best thing and found my SUPERSTARS for the project.
Product 1: Zinsser Cover Stain, Oil-based (which means it reeks!) Primer (This is tintable!)
Product 2: Behr Premium Plus Ultra, Interior Satin Enamel, Deep Base in Forever Black
If you can find the Benjamin Moore product I'm sure it will do fine, but I found this product as effective and $10 less.
Things I would do next time:
- Tint the primer! I could have saved doing 3 coats of black if the primer wasn't white. Although I got away with one quart each for the whole project, tinted primer would have been a time saver.
- I would have stuck with 2 hole handles as opposed to going to one. The hardware was supplied for me by my BFF so I made it work the best I could. I love the knobs, but the holes left behind are always hard to completely eliminate. If I every perfect this trick, I'll definitely let you know.
Tips I will stick with:
- Use a foam roller and foam brushes. It really helped with keeping the coats even and consistent.
- Use a strong degreaser to prep the wood. Definitely stick with this if you're not going to sand a piece before you work on it.
- Make sure your paint is drying in a room with the right temperature and for the appropriate time. It didn't happen on this project, but it's always a good tip to stick with. Every paint can has suggested room temperatures and dry times. As long as you stick with them you won't run into problems that will make you have to back track on your project.
Good luck if this motivates you enough to do it on your furniture. Send me a message if you have and questions or send me pics of your finished product!
Linking to: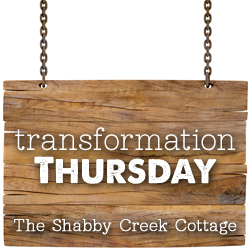 Remodelaholic